I've got so many projects on the go at the moment - some I'm in the middle of and others I've just stored in my, 'I really want to try' folder.
I'm still in love with felt bead rugs and I'm desperate to make one.
This is the Pinocchio rug
and it retails at between £200 and £2000, depending on what size you prefer. It is gorgeous and I can see why it is so expensive but... it is so expensive!
My other reason for wanting to make my own is so that I can have it just the right colours to go with our slightly more subdued tastes.
Of course I could buy the felt balls, but this could cost between £300 and £500 and I still wouldn't get exactly the colours I want.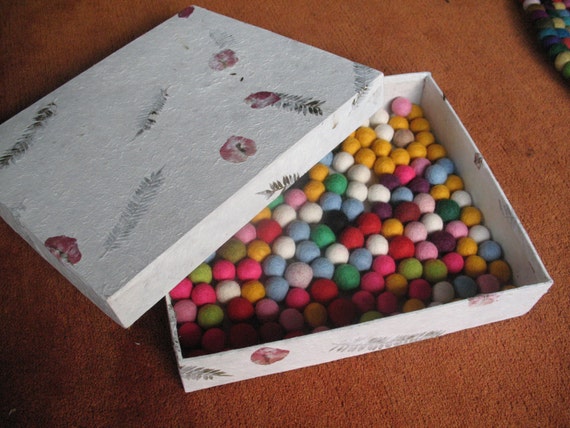 These beautiful Nepalese felt beads are on sale on Etsy for £112 for 1000.
After reading around, it would appear that I would need between 4000 and 7000 beads to make a good sized rug (gulp!) So, I'm still on the lookout for the quickest method of making beautiful felt beads.
(... the more I think about, the more I think I might be slightly mad...)
My conclusions so far are that wet felted and needle felted beads take too long. Knitted beads take a lot less time and energy, but it would still take years to make enough beads for a rug.


So onto my next experiment. And the most obvious solution of all... Why didn't I think of it before???
I handspun some merino yarn and then wound it up into lots of balls of equal size. To secure them and to stop them unravelling during the felting process, I just took a tapestry needle and threaded the last 20cm or so through the ball a few times until it felt secure.
I very quickly had lots of little balls that looked like this -
Then I tossed them in a laundry bag and put them through two 40 degree washes (along with a full load of washing. The left ball is just after 1 wash and the right ball is after 2 washes. They were getting smaller and denser, but they still had quite a bit of yarn definition.
So finally, I felted them using the hand blender method. I put them all in a mixing ball and covered them in just enough water for them to start floating.
I whizzed them around for about 4 minutes in boiling hot water and washing up liquid

Rinsed them

Mixed them in cold water for about 4 minutes

Mixed them again in boiling hot water for about 4 minutes

Rinsed them in cold water
The result is a lovely firm ball that's fuzzy with very little yarn definition.
Here they are in all their fuzzy loveliness, getting smaller and denser with each process.
Check back in a year's time and I might have finished it... maybe!
----------