I've been playing a lot with Hama beads recently. I think it's all the colours and the possibilities of creating amazing pixel art that has me gripped. More of that to come in a few weeks...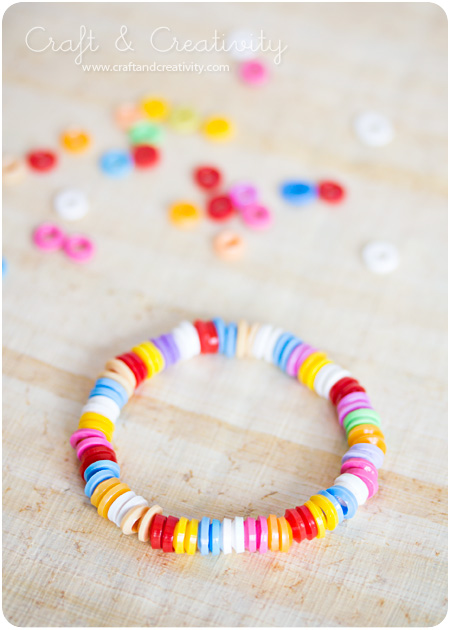 It details how you can melt Hama beads or Perler beads in the oven so that they become flat, with much larger holes. I thought it might be the perfect craft to try with my 4 year old, as the large holes make it so much easier for her to thread through... As it turned out, my daughter lost interest after about 2 minutes. I, on the other hand was enthralled!
The original bracelet above is made using the equivalent of Midi Hama beads. The other project I'm working on uses the very small Mini Hama beads that are designed for children aged 10 and above, so I have an abundance of these tiny fuse beads.
I therefore had no idea how my beads were going to turn out...
I dutifully laid out my mini beads on my non stick baking tray, making sure that they were all standing upright. HOWEVER I've got a fan oven and the mini beads are very small and light, so as soon as I opened the oven door, most of them rolled from their original positions, many of them onto their sides.
The oven was heated to 200 degrees Centigrade and it took less than 2 minutes for them to flatten down to this size and shape. There's really no need to walk away from the oven, you can see them shrink and flatten before your eyes.
The thing I did discover though was that the ones that had rolled onto their side shrank in exactly the same way, so their starting position had no effect on their final shape. My only problem was the ones that had rolled together. They of course had fused to each other and were pretty unusable.
Having had success with the first batch I laid out my next lot. This time I paid little regard to whether they were standing up or on their side. I just made sure that they had a nice distance between each other.
You can see how some shrank standing on their sides - now that's clever!
I took the tray out and left them to cool down for a few minutes.
I then threaded them onto some silk thread - just wide enough to fit over my hand.
I love how the beads have turned out. The mini Hama beads are so delicate. In a certain light they look like hand made glass beads or shells - especially with the mixture of translucent and opaque beads.
----------